Improves employee retention rates and loyalty to your company • Boosts employee morale and motivation to decrease absenteeism • Increases productivity which in turn increases your company's bottom line.
Phone: 0412 610 772
How would you like to….
Thank your staff, reward them for their hard work
Treat clients or delegates at a work conference or corporate golf day
Attract potential customers to your trade or corporate stand
Pamper your friends special occasion
Why Choose Corporate Massage Gold Coast
At Corporate Massage Gold Coast, I guarantee that whilst holidaying or working in Surfers Paradise or on the Gold Coast you will get the best possible service & results you will be delighted with. I am a fully qualified, ATMS accredited remedial therapist and insured professional with many years experience, (since 1997), who abides by a strict association code of ethics. I specialise in neck, back and shoulder PAIN RELIEF, but also offer full body relaxation or deep tissue massages from Sanctuary Cove to Burleigh Heads.
I am Not trying to be the Biggest Company, Just the Best Massage. Sure, there are larger massage providers out there, and that's just
fine with me. After all the best car companies, artists, jewellery brands, weren't built based on volume. They were carefully crafted
with the utmost regard for their art, reputation, and clients. My aim is to be your first choice provider in Mobile Massage Services on the Gold Coast. By providing you with access to a professional therapeutic massage therapist, when and where you want.
I'll endeavour to enhance your business trip to Surfers Paradise or on the Gold Coast and make it even more memorable or enhance your work day and make it more relaxed and pleasurable. Whether your looking for a wonderful way to relax and soothe away the stress and strain of everyday living, or you need some recuperation from your days activity at conferences or work events a mobile massage in the comfort of your own hotel room is the answer.
Phone: 0412 610 772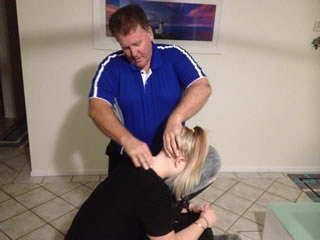 Massages Available
Chair Massage as an incentive / reward is a practice that makes good business sense. It has been proven to help raise profits and reduce health care costs.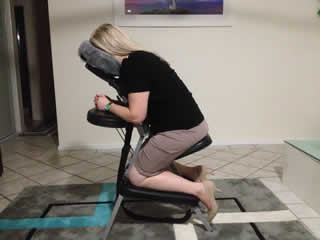 Prices & Times
Treatments are charged from $90 per hour, price subject to change depending on number of staff and frequency of visits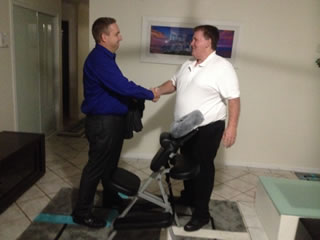 Client Reviews
I have had regular massages from Tony for the past two years. In short he is prompt, polite, well mannered and highly skilled….
Our Prices and Appointment Times
Business Hours 9am – 6pm
60 minutes – $90.00
After Hours 6pm – 9pm
60 minutes – $125.00
After 9pm & Public Holidays – POA
Phone: 0412 610 772
Benefits of Massage
Reduces stress, anxiety & lowers blood pressure; Decreases work related aches, pains, stiff necks, headaches & back strain; Helps to stimulate the body's circulatory immune system; Increases morale & reduces the chance of "burnout"; Promotes deeper breathing; Improves posture & circulation; Enhances skin tone & skin health; Increases & promotes joint flexibility; Enhances a calm mind; Increases self-awareness & peace of mind; Promotes mental alertness
What Our Clients Say About Us
Below are just a few of our many testimonies from our happy clients.
Read More
"Tony is a real professional. He is a very honest and friendly fellow. He has been massaging my family for over four years now. My wife, daughter, and myself always look forward to our massage…..
Chris Gardiner
What a wonderful massage I had recently my first with a male therapist, his conduct was very professional, his attitude very reassuring and his conversation very enlightening…..
Victoria Greenland
I am pleased to provide a review for Tony. Over the eight years that I have known him I have come to like him a great deal. As a person and as a professional he has earned my trust. Tony is ….
Marian Bloom
I have known Tony for seven years in his capacity as masseur. He is an excellent masseur. He plans his schedule effectively, is well organised, punctual, polite, consistent and efficient. He has the …
Gregory Rose