A Little About Me
I am Not trying to be the Biggest Company, Just the Best Massage
Sure, there are larger massage providers out there, and that's just
fine with me. After all the best car companies, artists, jewellery
brands, weren't built based on volume. They were carefully crafted
with the utmost regard for their art, reputation, and clients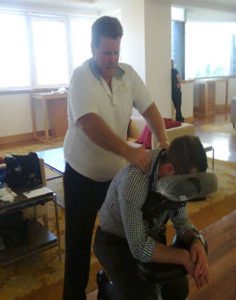 My name is Tony, I am a highly trained massage therapist, I gained my qualifications here on the Gold Coast from the Academy of Natural Therapies Southport. I am a person who is dedicated to providing a quality therapeutic mobile massage and educating people on muscle care. I have a strong knowledge of muscles and injuries and my background includes many years of experience ( since 1997 ) in the Massage industry as a practicing massage therapist, focusing on deep tissue Sports massage, Swedish massage, and corporate massage.
I specializing in providing a professional therapeutic mobile massage service for business and residential clients throughout the Gold Coast and surrounding area. I began my massage career in 1997 with a mission to take a professional quality mobile massage service to the places and people needing them most.
I am professionally trained in a wide variety of massage techniques ranging from a relaxing Swedish massage, to a healing deep tissue sports massage for professional athletes, as well as chair massage for busy office staff. I am fully Qualified, Accredited and Insured. I provide a professional therapeutic mobile massage service for guests and residents of Hotels and resorts in Surfers Paradise and Broadbeach as well as private residence from Paradise Point to Burleigh Heads.
My aim is to be your first choice provider in Mobile Massage Services on the Gold Coast. By providing you with access to a professional therapeutic massage therapist, when and where you want.
I'll endeavour to enhance your business trip to Surfers Paradise or on the Gold Coast and make it even more memorable or enhance your work day and make it more relaxed and pleasurable. Whether your looking for a wonderful way to relax and soothe away the stress and strain of everyday living, or you need some recuperation from your days activity at conferences or work events a mobile massage in the comfort of your own hotel room is the answer.
At Corporate Massage Gold Coast, I guarantee that whilst holidaying or working in Surfers Paradise or on the Gold Coast you will get the best possible service & results you will be delighted with. I am a fully qualified, ATMS accredited remedial therapist and insured professional with many years experience, (since 1997), who abides by a strict association code of ethics.
I specialise in neck, back and shoulder PAIN RELIEF, but also offer full body relaxation or deep tissue massages from Sanctuary Cove to Burleigh Heads.
Relief from pain or stress and tension is just a phone call away.